Career
Fairs
We are at home outdoors – what about you? We are looking for brave summiteers who don't want to stay put. Leave your footprint at Jack Wolfskin.
Be authentic and show us who you are and what you can do!
Are you interested in Jack Wolfskin, sport and the outdoor industry? Do you want to find out more about joining our company and the career options open to you as a graduate or (young) professional? Then come and visit us at our stand and give the Jack Wolfskin HR team the opportunity get to know you face to face at one of our career networking fairs.
In contrast with the anonymity of an electronic application portal, you don't have to compete with other applicants – you can convince us in person.
The more we find out about you at the fair, the easier it is for us to show your CV to the relevant departments if a vacancy comes up.
If we find your employment history interesting, you will get feedback there and then and you can send us your documents right after your meeting.
If the department heads like your CV, then we will invite you to an interview in Idstein shortly afterwards.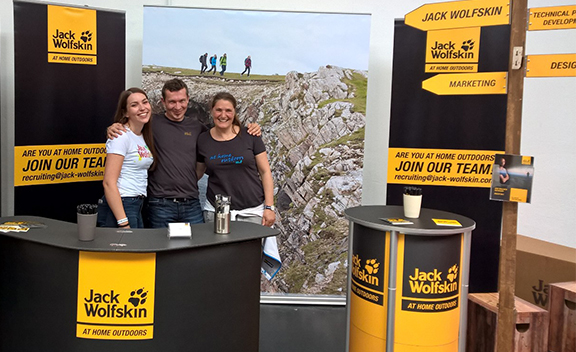 You can find us at the following fair:
Absolventenkongress – 21 &. 22 November 2019
– Unfortunately, we have to cancel the participation in the fair –
Cologne Exhibition Centre – this congress is the biggest careers fair in Germany for students, graduates and young professionals and is organised several times a year by the Staufenbiel Institute.
Hundreds of companies are waiting for you at the fair in Cologne. Whether you're still studying or are already finished, as a young professional, you'll find everything from internships to direct entry into a career. Interesting presentations from HR representatives will round off the two-day programme.