When the world suddenly goes quiet
"Borneo? Where is that again?" was probably the most frequent question I got when asked about last summer's plans. But I have to admit that I didn't know much about this beautiful island myself before I began my journey. The only thing I was sure of was that Borneo was another wildlife hotspot that had to be explored …
Up and away
I'm Hannah, a veterinary student from Hanover and a huge fan of nature, the animal kingdom and adventure. These things drove me to do a two-month placement at a research station in the middle of the Bornean rainforest last summer. It was a unique and fantastic experience in which I could experience living in the jungle, practicing wildlife medicine and find out more about my own enthusiasm for animals and nature. I assisted a wildlife vet with their work and helped the researchers at the station with their projects.
So that's how I ended up on a plane to South East Asia just a few hours after my last preliminary exam – tired, curious and a little nervous. Yet all my fears dissipated abruptly when I stepped out of a small van after a long flight, a six-hour time difference and a bumpy drive and saw it: the Kinabatangan River. A powerful, mud-brown current snaking its way through the landscape, framed by gigantic trees, hills and a green that I had only ever seen in TV documentaries. This view left me speechless. I felt a tingling in my fingertips and I only had one thought on my mind: yes! This is exactly where I want to be!
My summer in the jungle
At 751,936 km2, Borneo is the third-largest island in the world after Greenland and New Guinea, and is divided between the three states of Indonesia, Malaysia and Brunei. The Kinabatangan is the longest river in the Malaysian federal state of Sabah in the east of the island of Borneo. This highly diverse region is home to tropical forests, oxbow lakes, marshland, and mangrove forests. Some parts of its flood plains are protected as part of the Kinabatangan Wildlife Sanctuary. However, these habitats are under extreme threat from the increasing inhabitation of the riverbanks and the huge expansion of palm oil plantations. Until now, large parts of this once tree-covered island have been ruthlessly cleared by fire and are now only used as palm oil plantations. Palm oil forms the principal income of the local population.
Arrival
As soon as I could tear myself away from that first amazing view, I settled myself in a little motorboat and travelled downstream to a small research station – hidden in the rainforest and only accessible by boat. The station consisted of four large buildings. Researchers of various nationalities doing different projects were represented there. I was warmly welcomed and felt at ease straightaway.
As I lay under my mosquito net on my first evening, utterly exhausted by the long journey, I felt totally overwhelmed by all the new impressions. Outside, loud cicadas, rustling animals, singing birds and – so I imagined – the calls of monkeys created a huge soundscape. On top of that, there was a relentless heat with 95 per cent humidity and a deep, black darkness that I had never experienced before. I can still remember exactly what was going through my mind during that sleepless night – "Wow Hannah! Welcome to the jungle!" With my head torch by my pillow and my pocket knife within reach … After that first night, I would never have imagined that I might come to find the "music of the jungle" soothing and that I would freeze in these temperatures at night.
A typical day in the jungle
I was amazed by how quickly I got used to this unfamiliar environment and daily routine. My alarm clock went off at 6 a.m. each morning as it gradually grew lighter outside – although I still preferred to slide out of bed armed with my head torch. A quick splash of water on my face (fortunately there wasn't a mirror) and it was on with the outdoor kit, suited to the tropics. I was really thankful for the long-sleeved, lightweight tropical shirts and mosquito-repelling dark trousers, which were airy and dried quickly – perfect for the jungle. They were really practical, as the humidity meant that it was difficult to dry anything. The trousers were tucked into light, breathable socks – "jungle style" – so that leeches wouldn't have any chance of latching on, and then it was on with the wellington boots. To round off the ensemble, a spray of insect repellent. Ready!
After a quick breakfast I got on the boat so I could go and help with one of the research projects. The sun cast its warm light onto the treetops, it wasn't too hot yet, and the animals were waking slowly from the night. It was an amazing feeling with the wind in my face, the gigantic green trees sliding by, monkeys peeking out, crocodiles sunning themselves on the sandbanks and hornbills and eagles crossing the river – too beautiful for words!
Once work was done, including hours of jungle hikes, it was back to the station at around 11 a.m. – soaked in sweat and peppered with mosquito bites. Suddenly, I was able to look forward to cold showers! After an extended lunch break, during which it was too warm to do anything constructive, it was time to get back to work in the rainforest. It was amazing how quickly I became accustomed to the environment and the unfamiliar climate. It also became normal for me to have drunk the first litre of water before 10 a.m. Over time, I discovered even more creatures in the trees. It was important to listen carefully, as a proboscis monkey moves quite differently in the treetops compared to an orang-utan or a long-tailed macaque.
In the evenings, after the third shower, the obligatory inspection for leeches and mosquito bites (I stopped counting pretty quickly) and dinner, we often sat together, played cards and reported on the day's events. But the station usually turned in for the night by 10 p.m. – the jungle wears you out!
When the world suddenly goes quiet
Probably one of my most impressive experiences was the first time I glimpsed the Borneo pygmy elephants. We came from a tiring afternoon shift, were surprised by a violent downpour in the forest and were finally sat huddled together and soaked through on the boat when I suddenly saw them beyond a curve in the bank: the forest elephants! They are the smallest species of elephant in the world. I could barely believe it, it was so unexpected and I was so taken aback by the sight that tears came to my eyes. There are moments when we face something so great that the sight overcomes us – and this was one of those moments for me!
Nine elephants were stood grazing peacefully on the riverbank, the babies protected in the middle. The rain didn't seem to bother them. What a great sight! I got increasingly frequent glimpses of the elephants in the days that followed. The herd, with around 80 animals, was on the way downstream. I saw them crossing the river, bathing and even "playing" right in front of our station. Being woken up by elephant-trumpeting in the morning is an unbelievable feeling.
The calm before the storm
I won't forget the effects of a tropical storm in a hurry. During the afternoon, it became so muggy and damp that sweat dripped from the end of my nose without any physical exertion. The sky became increasingly dark and then, all of a sudden, it was quiet. Only the sound of a violent rumble of thunder could be heard in the distance. If I was still in the forest, then that was the exact point at which I had to make a bolt for it. Next came huge gusts of wind, which swept through the forest and ripped branches from the trees. The first time it happened I thought of an enormous animal which stormed through the trees, destroying everything in its path. This was the moment where you had to watch out for deadfall, the dead wood falling from the trees – one of the biggest dangers in the forest. Hot on the heels of this blustery wind was a "wall of rain" – and what rain! So much rain fell in such a short time that everything was inundated within a matter of seconds, and puddles and small rivers formed everywhere. What's more, it was so loud that you could no longer hear your own voice. Then came the powerful lightning, which lit up the sky, followed by ear-splitting thunder. I enjoyed sitting on the sheltered steps behind our house, observing the spectacle with fascination. It often rained all night long, and even after the rain was long gone, you could still hear the water dripping from the leaves and treetops for hours afterwards.
Farewell
What I experienced in these two months was really amazing. I spotted pygmy elephants, giant crocodiles and various types of hornbills, kingfishers, eagles and monkeys on the riverbanks. I was able to work with Sunda clouded leopards, honey bears, water monitors and proboscis monkeys. I was followed by Malay civets by day and slow lorises by night. And on nocturnal walks, I saw so many different types of frogs, "bizarre" insects and other creepy-crawlies that almost turned my stomach.
Above all, I learned something important about the jungle and about myself. It's easy to see how the tables can be turned and nature can win back its power. How I had a huge fear of tiny (but very painful) centipedes or innocent king cobras in the undergrowth. How I was at the mercy of mosquitoes and leeches and how the world could suddenly be silenced by a tropical rainstorm. How I learned to live in harmony with nature, let myself be guided by sunlight and weather and how I was more conscious of my surroundings with all their sights and smells. How insect bites, the unrelenting sweating, cold showers and daily rice meals no longer bothered me. And how quickly I could feel at home in such a strange and unfamiliar environment.
To be honest, I needed time to get used to my home in Germany when I got back from the jungle. I had to remind myself not to automatically put the food sitting around in our shared kitchen in ant-proof plastic boxes. I no longer had to hang everything up to air to keep it safe from mould, or switch on my head torch as soon as it got dark, or even shake out my shoes thoroughly before I exit the house. Above all, I miss going to sleep with the sounds of the jungle and waking up to birdsong.
Now I have to get used to rattling trams and tooting car horns again, but it's great that I'm so flexible and "At home outdoors"! ;-)
Related Posts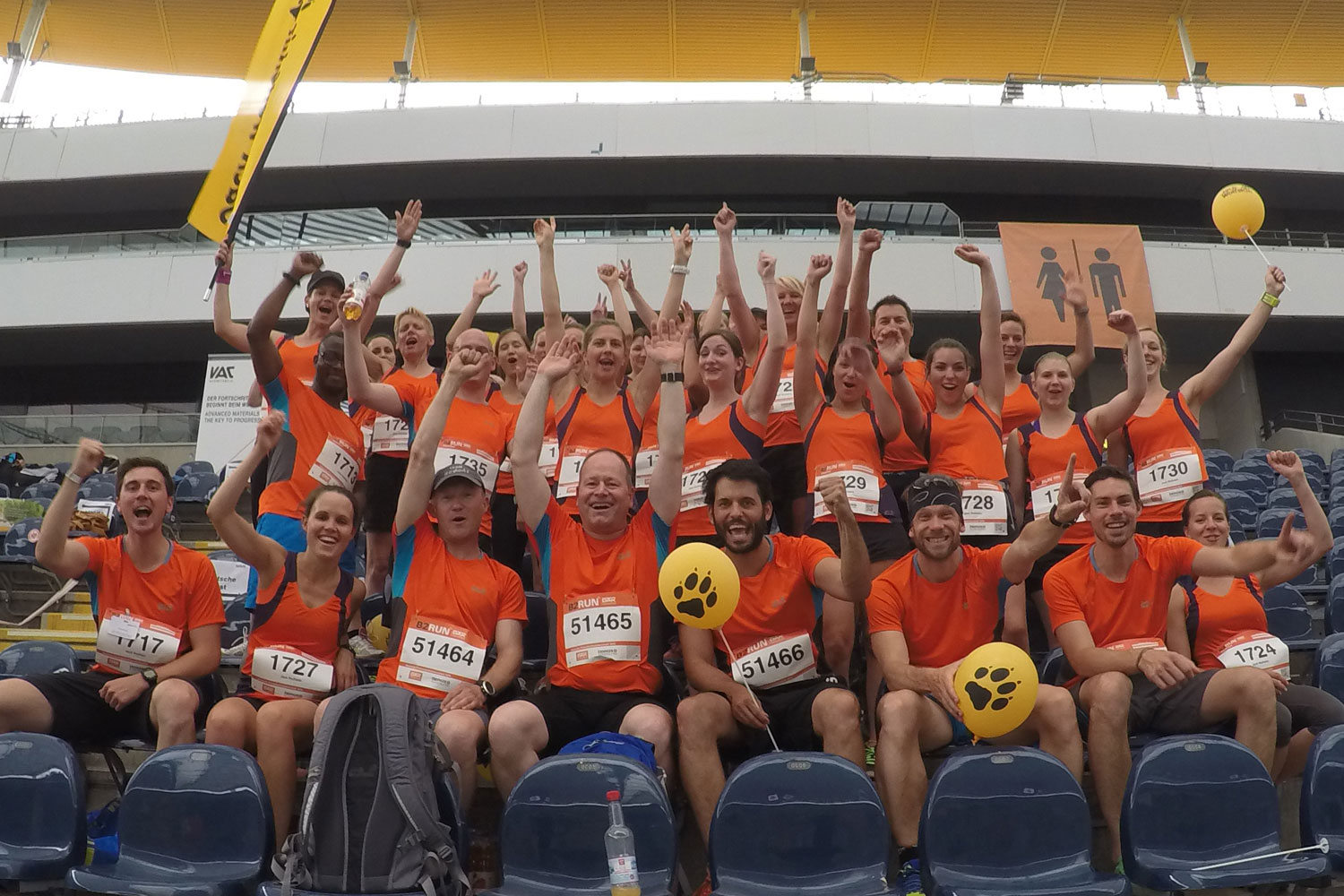 July 14, 2015
31 runners represented Jack Wolfskin at the B2RUN in the Commerzbank Arena in July 2015. The starting pistol for the … continue reading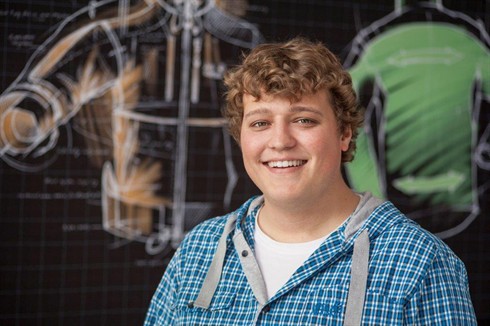 October 1, 2014
In our new series "We at Jack Wolfskin", we introduce employees from various areas of the company. Tobias works in … continue reading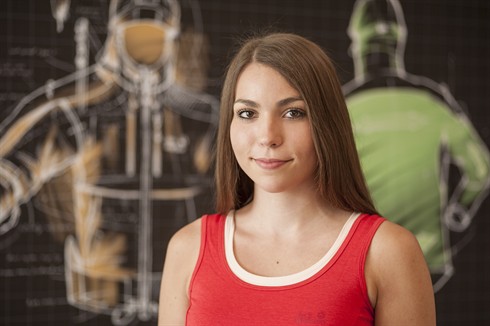 October 27, 2014
What opportunities does Jack Wolfskin offer its trainees? Fabienne is training to be a marketing and communication … continue reading